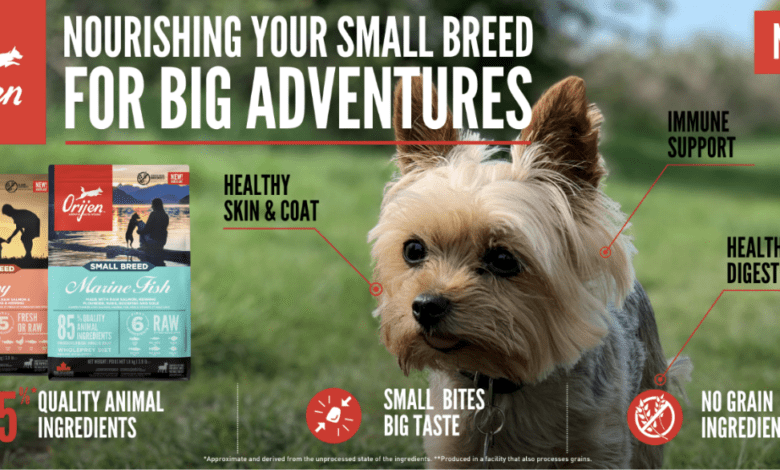 It may come as no surprise that the small breed dog population has seen huge growth in recent years*. In response to this, Bern Pet Foods is pleased to bring two new ORIJEN small breed dog recipes to the UK, ORIJEN Small Breed Puppy and ORIJEN Small Breed Marine Fish. 
By nature, small breed dogs have a high metabolism which helps them burn calories quickly. This means they benefit from eating smaller, nutrient-dense meals with high quality proteins and fats. The ORIJEN Small Breed Dog range boasts 85% high quality animal ingredients for muscle development and optimal nourishment including fresh chicken, raw salmon, raw hake, raw sole, raw turkey, whole rockfish and whole herring. In addition it offers the following benefits:
Healthy Digestion

–grain free and packed with fibre and nutrients from fresh fruit and vegetables to aid healthy digestion

Immune Support

– contains antioxidants from cranberries, blueberries and botanicals to support a healthy immune system

Health Skin & Coat

– loaded with Omega-3 and Omega-6 fatty acids to support healthy skin and a shiny coat

Smaller kibble size

designed for small mouths. Reducing the kibble size enhances palatability and digestibility and ensures maximum enjoyment of each meal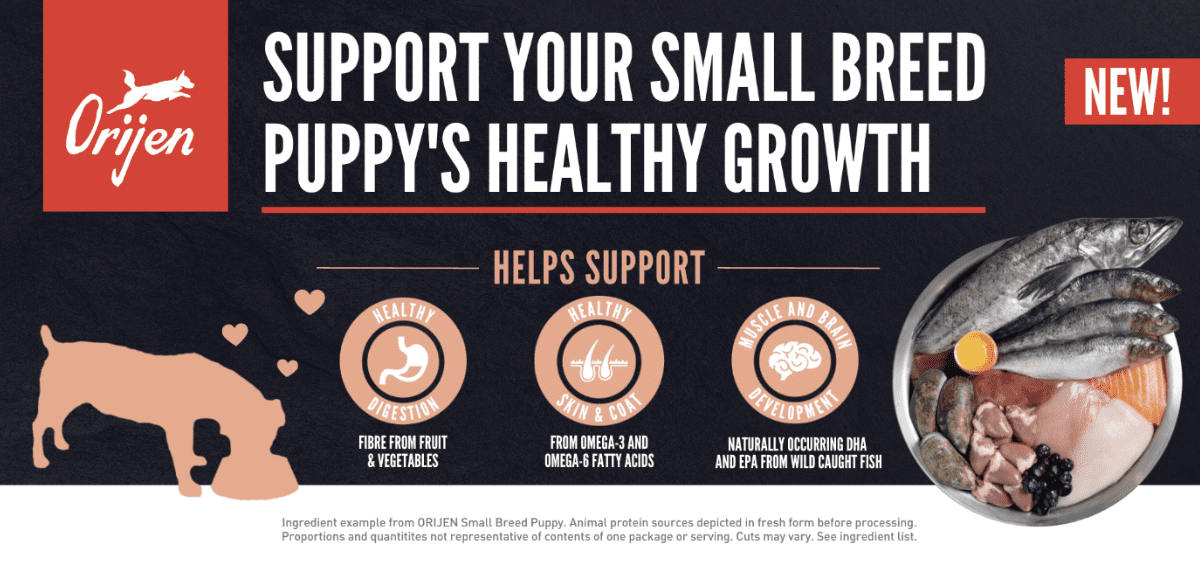 Formulated by an in-house veterinarian and pet nutrition experts, new ORIJEN Small Breed Biologically Appropriate diets help support unique health benefits so small breed dogs thrive. The introduction of two new nutrient dense recipes, one specifically designed for puppies and a fish recipe for small dogs with sensitivity to poultry, provides a range of diets suited to their needs and lifestages.
ORIJEN Small Breed Puppy
Brimming with 85% high quality animal ingredients for muscle development and optimal nourishment

EPA and DHA that comes from a variety of fresh and raw fish (salmon, hake, herring) helps to develop the cognitive function of growing puppies
ORIJEN Small Breed Marine Fish
Suitable for small breed dogs with poultry intolerances 

Green mussels and fatty acids from herring oil provides joint support

Lower in fat to help maintain a healthy weight**

Brimming with 85% high quality animal ingredients for muscle maintenance
ORIJEN Small Breed Dog recipes provide unsurpassed dry food nutrition that mirrors the ancestral diet. Recipes are available in 1.8kg and 4.5kg bag sizes with prices starting at £24.99. For more information, please contact Bern Pet Foods on 01737 767679 or email sales@BernPetFoods.co.uk

* Source: Pet Population Historical, Euromonitor 2021. Small Breed Dogs up to 9kg
**compared to ORIJEN Small Breed Original