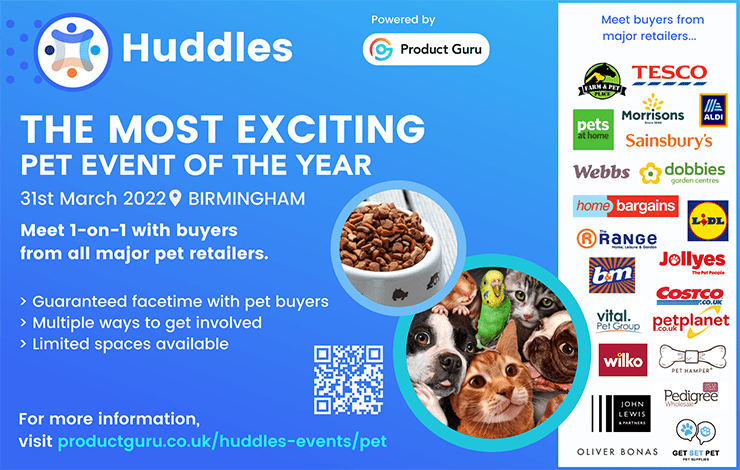 Glasgow-based online platform Product Guru is set to host the "most innovative pet retail event of the year", with the launch of its Huddles events.
After finding "major success" with its Virtual Pitch events, Product Guru continues to evolve upon its mission of connecting brands and retailers in innovative ways through a "unique boutique hybrid event unlike anything else on the market".
Set to be the "most disruptive event series of 2022", challenger brands will have the opportunity to engage with a prestigious line-up of leading UK retailers. The event will take place on the 31 March at Edgbaston Park Hotel in Birmingham and feature a (growing) list of major retailers that includes all-stars such as Pets at Home, John Lewis, B&M, Pedigree Wholesale, Wilko, The Range, Jollyes, Farm & Pet Place, Vital Pet Group, and more.
The pet industry represents a major lucrative opportunity for both brands and retailers alike in 2022. Huddles takes these major players from this fast-growing industry alongside up-and-coming brands while utilising an innovative approach to foster even greater engagement and connections. This dazzling event will incorporate both live and virtual connections for an integrated experience.
The event will feature three different ways for brands to engage buyers with their products; via in-person meetings, 4D video, or with product sampling packages. The flagship in-person package provides the opportunity to interact face to face in guaranteed time slots with decision-making buyers from leading UK retailers in their categories.
For local and international brands unable to attend the event in-person, the 4D hybrid video package allows brands to deliver a 4-minute video pitch alongside product sampling for all buyers at the event. Finally, the product sampling option will offer brands the opportunity to reach attendees with samples, to get buyers at the event to try their products first-hand and provide feedback.
Huddles said it set itself apart from traditional events by measuring its success through "fruitful interactions with effective follow-up". With this mission in mind, the event will feature devices and connective technology for all buyers through an integrated experience in conjunction with the Product Guru platform. Following the event, all actions and feedback made by buyers across devices will be utilised for follow-up to further incentivise engagement between retailers and brands.
Simon Coyle, CEO of Product Guru, sees Huddles as a major step as the company evolves and further explores possibilities to connect brands and retailers. With a growing list of major retailers already signed on and more to come, Huddles is set to be the "most innovative pet event of the year".
He said: "Our partners in the industry are as excited as we are to get involved in this experience. We can't wait to see brands engaging personally with leading retailers, improving brand awareness, and getting buyers to try samples of their products. It will be a unique event for truly meaningful interactions, with big opportunities for brands and buyers to evolve their business."