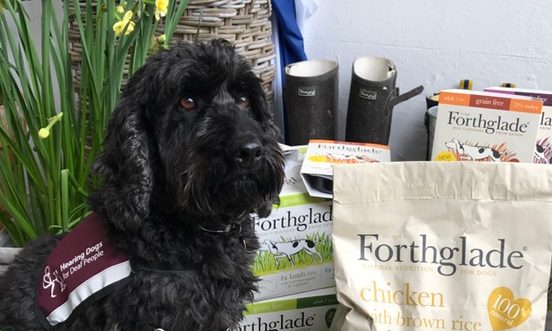 In April 2017, Devon based natural pet food company, Forthglade, showed its support for a charitable pooch. 
A seven year old Devon based cockerpoo named Niven was recognised an 'Unsung Hero' for his hard work and dedication as a Hearing Dog. The heroic hound had every reason to wag his tail after winning a weekend stay at a luxury pet-friendly hotel as well as three month's worth of Forthglade's natural pet food.
Niven and his owner Pauline regularly volunteer at the Exeter Royal Academy for Deaf Education, enabling deaf students to work with a hearing dog. The duo were nominated through a charity called Room to Reward, an initiative that recognises volunteers across the UK.  Niven joined Pauline in 2012 and Pauline says of her beloved pet: "Niven works tirelessly at anything I ask him to do, he is very friendly and patient".
Hearing Dogs for Deaf People set up a project with the Deaf Academy in October 2016, to see if any of the deaf students would benefit from the opportunity to engage with a hearing dog. Niven has been visiting the school every week since, working with the teachers and students – with amazing results.
Niven's dedication even made local news channels as camera crews came out to film the four-legged hero as he arrived at Devon's Deerpark Country Hotel to receive his medal and Forthglade goodies.
Room to Reward is a charity which launched in July 2015. Since its launch, over 70 hotels are now supporting the scheme, rewarding deserving charity workers with complimentary hotel breaks across the UK.