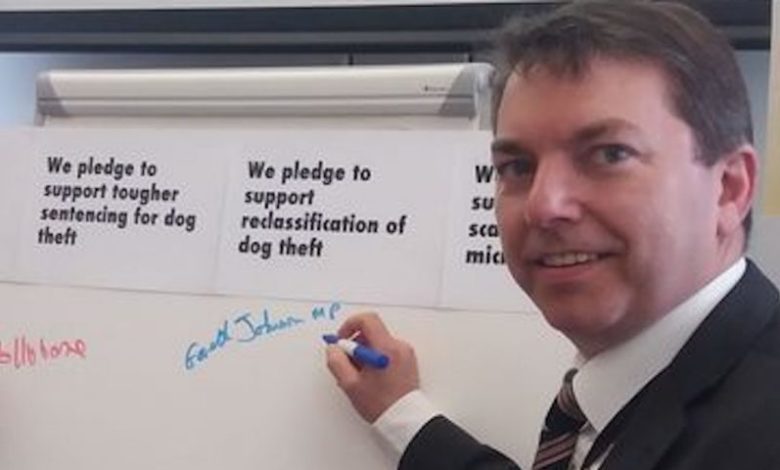 Around 50 MPs supported Dog Theft Awareness Day at Westminster. Organised by the Stolen and Missing Pets Alliance and hosted by Dartford MP, Gareth Johnson, the day highlighted the growing crime of dog theft and the devastating impact on owners.
Gareth Johnson opened the day by saying: "Dog theft is a particularly nasty crime which causes great distress to the owners and to the dogs themselves.
"It is a rising issue in this country with hundreds of dogs being stolen every year. Too often dogs that are stolen are simply reported as missing and very few are ever returned to their owners."
The day gave MPs the opportunity to hear about the issues from SAMPA members DogLost, Vets Get Scanning, Pet Theft Awareness and Dog Union as well as victims of dog theft, the police and dog wardens.
MPs were then asked to pledge their support for tougher sentencing for dog theft; reclassification of dog theft crime and compulsory scanning of microchips.
Paul O'Grady and actor Peter Egan sent messages of support, and Talk Radio broadcaster Paul Ross told everyone: "Dog theft is a cruel and callous crime that tears the heart out of families – a vile act perpetrated by evil people. Time to make the punishment fit the crime."
TV vet, Marc Abraham said: "Dog theft is a growing crime in this country, with all dogs of any size and breed being vulnerable; basically no dog is safe. In my opinion as a profession vets have a duty to educate dog owners of the dangers of dog theft, how best to protect their four legged friends, as well as scanning and checking microchips to help reunite stolen, stray, and missing dogs, as well as dogs that have been sold on."
Nik Oakley for DogLost and SAMPA said: "The crime is largely unpunished as few cases reach court, and because dogs are regarded as goods any sentence reflects the value of the dog not the impact on the victim who has lost a member of their family.
"Police statistics vary across the country and are simply the tip of the iceberg. They show how a force records dog theft rather than the size of the problem. Neither do they record the crime of 'theft by finding' where a dog goes missing and is picked up and sold on or kept as a pet or for breeding.
"Until scanning of microchips is compulsory by vets, rescues and other authorities there can be no guarantee that a dog will be reunited with its rightful owner."
Vets Get Scanning's Debbie Matthews said: "Dog theft is a crime that affects many and scares all dog owners, many of who contacted MPs asking them to attend.
"We had a steady stream of MPs, many of who are dog owners themselves so they totally understood the issues and that we need better deterrents in place to stop dog thieves and compulsory scanning of microchips to help reunite dog and owner."