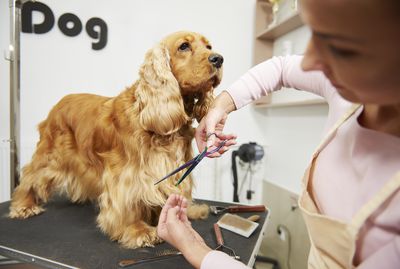 The Pet Industry Federation (PIF) has recently issued its guidance for dog groomers in light of the ongoing pandemic. 
It warned groomers that despite the ability of pet owners to visit pet shops or veterinary surgeries, journeys by car to grooming salons are not permissible during the nationwide lockdown. 
However, PIF told groomers that it is permissible for businesses to travel as part of their work, so mobile groomers may continue to operate, as can salons when they collect dogs from individual households. 
PIF said that such guidance follows the DEFRA-approved guidelines established by the Canine and Feline Sector Group earlier this month.
It added that dogs can be walked to be groomed as part of the daily exercise of pet owners. Once the dog has been groomed, the dog may be walked home or the groomer may return the dog. 
According to PIF, only one dog may be groomed at a time and the premises disinfected in between.
Customers should also be offered advice, through text or email,  on how to brush and groom their dogs to keep the coats as matt free as possible. 
If necessary, groomers must assess dogs most at risk from matting over a video call, so they can determine how soon it will need to be groomed and establish how to safely get it to their salon.
The federation said: "There is an increasing need to consider the welfare implications for dogs whose coats require regular grooming, and who could develop severe matting or knots without intervention." 
"The most important factor to bear in mind is that it is your choice as to whether you open your salon and continue offering any service to your clients at this time."
It added: "If you do decide to open, you must ensure you can adopt all the social distancing and hygiene protocols to keep you, your families and your customers safe."