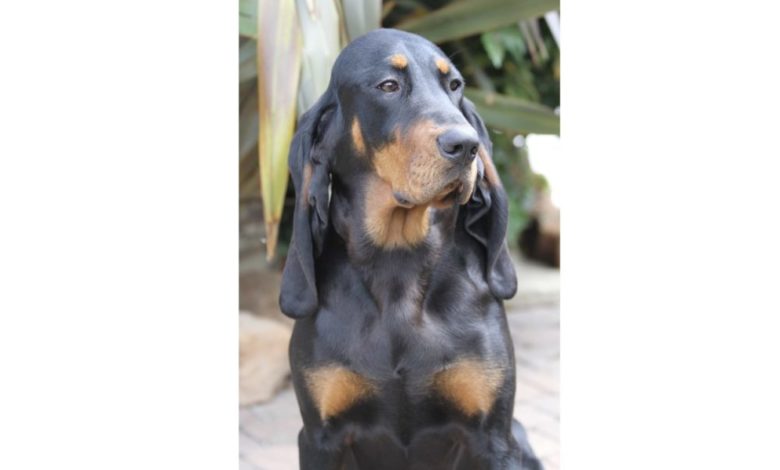 The Black and Tan Coonhound, so named because it was originally bred to 'trail and tree' racoons, will become the 221st pedigree dog breed in the UK this July when it becomes recognised by the Kennel Club, the UK's registry body for pedigree dogs.
The breed is the eleventh new breed to be recognised in the UK since 2008, following official Kennel Club recognition of the Barbet earlier this year and the White Swiss Shepherd Dog and Russian Toy in 2017.
Prior to this the Kennel Club recognised the Braque d'Auvergne, the already well-known Jack Russell Terrier, the Hungarian Pumi, the Griffon Fauve de Bretagne, the Picardy Sheepdog, the Turkish Kangal Dog and the Portuguese Pointer.
The breed will be at this year's Discover Dogs, a dog event in London, held at ExCeL Exhibition Centre on 20 and 21 October, where the public will be able to meet this breed for the first time. The breed will go onto the Kennel Club's Imported Breed Register from 1 July 2018, whilst a breed standard is produced and approved, and it will eventually move onto the main breed register.
The Black and Tan Coonhound, originally developed in the mountains of the southern United States in the 1700s, is descended from Foxhounds and Bloodhounds and was bred to trail raccoons and possums for colonial settlers to hunt.
Caroline Kisko, Kennel Club secretary, said: "We are delighted to recognise the Black and Tan Coonhound as an official pedigree breed from July and the slow but steady growth in the number of pedigree breeds in this country means that people have an even wider choice when trying to find the right dog for them.
"The process of being recognised as a pedigree breed by the Kennel Club takes several generations of dogs, but once we recognise a breed it means that we know that it has a reliable lineage that will give people a dog with predictable characteristics in terms of temperament, health, exercise and grooming needs, which helps dogs to find homes with the right owners.
She added: "People will have the exclusive opportunity to meet this breed at Discover Dogs in October, alongside nearly 200 other breeds, and to talk to experts who can advise on what they are like to live with."
The first two Black and Tan Coonhounds were imported into the UK from Finland in 2015, and the breed has since been developed here by a small group of enthusiasts who run their own breed club. Despite their small numbers so far in the UK, with only around 70 believed to be in the country to date, supporters of the breed believe they would make wonderful family pets due to their nature.