Latest News
Wild flower campaign brings communities together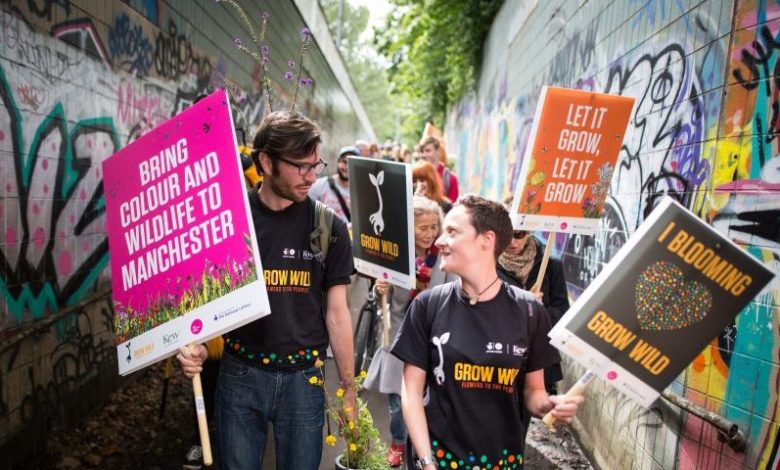 Grow Wild, the UK's biggest ever wild flower campaign, has boosted community co-operation and inspired people to do something positive with nature, independent research has found.
Grow Wild's achievements have also earned it a place as a finalist for this year's National Lottery Awards, where the public will vote for their favourite lottery-funded project.
Independent research conducted online and in focus groups by Forest Research (the research agency of the Forestry Commission) shows the impact that the programme has made all over the UK.
To date, three million people have been involved from inner cities to the farthest reaches of the Scottish Highlands, sowing enough Grow Wild seeds to cover 3.7 million square metres.
That's enough to create a metre-wide path of wild flowers all the way from Land's End to John o' Groats… almost four times.
Forest Research conducted semi-structured interviews and focus groups with 135 people at Grow Wild community projects and flagship sites.
Grow Wild has been supported with a £10.5 million grant from the Big Lottery Fund. Since 2014, 48 percent of community projects funded by Grow Wild have been from the 30 percent most deprived areas of the UK.
Forest Research found that people in these most deprived areas got the most out of the programme,while Grow Wild's seed kits are also having an especially significant impact there too.
People who received a seed kit in more deprived areas were significantly more likely to say they learned about wild flowers and about their communities.
Philip Turvil, programme manager of Grow Wild, said: "We're delighted to see that our wild flower campaign is making a real, quantifiable difference to communities in the UK. More people are enjoying nature and appreciating the value of improving the wildlife where they live.
"We're particularly excited by our nomination for a National Lottery Award – thanks to Lottery money so far three million people have taken part in our campaign, through receiving our native wild flower seeds, community funding and by participating online. Achieving national recognition would be an incredible honour and reward for everyone who's taken part, including the many enthusiastic volunteers, and will help to secure the future of UK native wild flowers."
With just a week to go, Grow Wild is asking people to show their support by voting for the campaign. Visit http://www. growwilduk.com or telephone 0844 836 9678* (voting ends at midnight on 20 July).
*Calls cost 5p max (a connection charge may be applied by some networks. Please check with your provider).