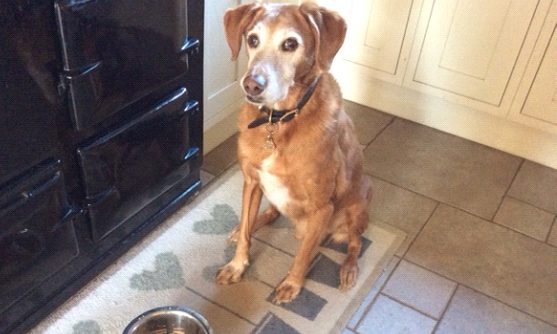 Welsh pet food company, Burns Pet Nutrition, has launched a new "Willy Wonka-style" competition giving dog owners across the UK the chance to win a year's supply of free dog food, in celebration of its 25th anniversary.
To mark the milestone, the family firm has released limited-edition vintage look bags, with 25 winning golden tickets hidden inside. Owners who find one of the golden tickets will bag themselves a twelve-month supply of Burns Pet food. Two Oxfordshire owners and one Leicestershire owner have already found golden tickets.
The latest owner to find a ticket, Helen Murphy, owns a thirteen-year-old Labrador red setter cross, called Milo. Murphy found the golden ticket inside her latest bag of Burns while preparing Milo's evening meal.
Murphy said: "We are very happy to have won a golden ticket. Milo is a rescue dog from East Midlands Dog Rescue. He is a gentle faithful dog which my late husband doted on and he has been a source of great comfort to me since my husband's sudden unexpected death seven years ago.
"Over many years my dogs have been fed on Burns. Burns has even helped to treat one of my dogs who developed intestinal problems later in life which even vets at Cambridge University failed to cure. At my wits end and following the advice of Burns nutritionists, I changed my dog's food to Burns' Pork & Potato range, which to the amazement of my local vets, brought about dramatic improvements and gave my dog two extra months of life."