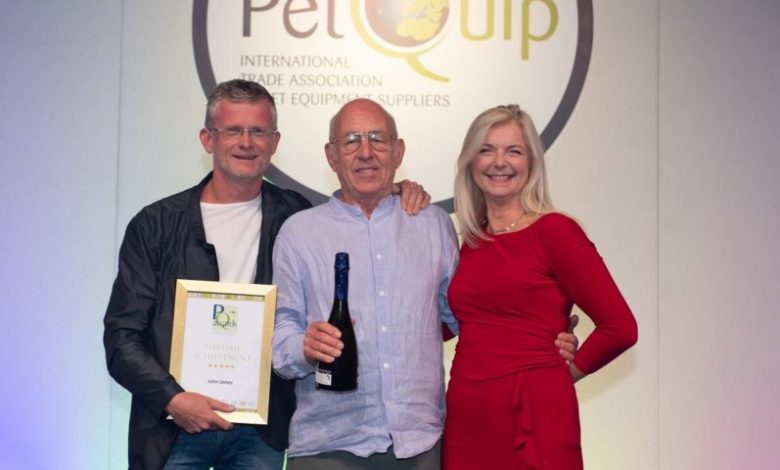 John James from pet accessories and treats company James & Steel was given a lifetime achievement award at this year's PetQuip Awards ceremony.
The event took place at the PATS Telford trade show on 23 September and was presented by Pat Flynn, PetQuip trade association manager and Amanda Sizer Barrett MBE, director general of the PetQuip association.
During the announcement of the lifetime award, Barrett reflected on James' career and described him as a "distinguished man well liked and respected by his suppliers". She added: "The team here at PetQuip feel that special recognition for John should also include being one of the best partners we have ever had the pleasure to share the dance floor with."
Pet manufacturer firm Group 55 were also commended with first place wins in the Business of the Year and Exporter of the Year categories.
James said: "I had no idea this was going to happen. It's a very humbling experience and one I will treasure. It is wonderful to be recognised in this way."
Managing director of Group 55, Stephen Turner, added: "To win both of these prestigious awards – Business of the Year and Exporter of the Year – is amazing. It's the ultimate recognition for the work we do. It couldn't be achieved without a fantastic team."
Barrett said: "Once again PetQuip is delighted to celebrate the successes of so many firms in this vibrant industry. Such was the quality of the entries, the judges faced a real challenge as the hundreds of entries received for the awards were all winning contenders.
"PetQuip is proud to play an important role in an industry that continues to excite and appears to have no limits to its new product innovation. It was also a delight to see so many people from the industry networking and enjoying a well-earned social gathering. We look forward to celebrating the industry's successes at the PetQuip awards next year."
---
The awards results are:
Business of the Year
Gold –  Group 55
Silver – Natures Menu
Highly Commended-    Broadreach Nature +
Exporter of the Year
Gold –  Group 55
Silver – Burgess Pet Care
Marketing Project of the Year
Gold –   Hownd
Silver – Company of Animals
Highly Commended–    Natures Menu/True Instinct
Highly Commended –    Just for Pets
Pet Product of the Year
Three categories:-
1) Food & Treats :
Gold – Hownd – Hemp Wellness Treats
Silver – Nutriment – Dinner for Cats
Highly Commended – Poppy's Picnic – Enhanced Pet Food/Complete Meatballs/Follow-on         Paste
2) Accessories :
Gold – Danish Design – Dog Duvet
Silver – Collarways – Mookiemax grooming and massage tool
HC – K9 Organics – shampoos/paw balms  
3) Health and Technical:
Gold – Sure Petcare – Microchip Pet Door Connect/Cat Flap Connect
Silver – PetWeighter – Dog Feeding System
International Pet Retailer/Distributor/ Wholesaler of the Year
Gold – Whesco, Denmark
UK Pet Retailer of the Year
Gold – Mutt & Co Pet Boutique, Hartlepool, Teesside
Silver – Pack and Clowder, Hackney, London
Highly Commended – WaggleAntics, online retailer
Lifetime Achievement Award:
John James