Business
Earth Animal relaunches festive natural chew
Earth Animal was founded by Dr Bob Goldstein and wife Susan Goldstein in 1979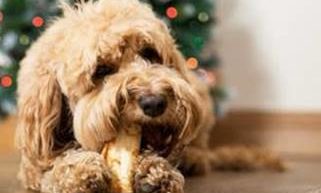 Pet product company Earth Animal has announced the relaunch of its festive natural chew, no hide the feast.
The chew contains just six natural ingredients: brown rice, flour, eggs, olive oil, pineapple stem, banana and vegetable gelatine, plus turkey, pumpkin and cranberry flavouring.
The chew has previously won a number of awards including the New Product Award for 'Dog Treats and Products' at PATS pet industry event.
The RRP of the chew is £4.99 for a small chew, £8.99 for a medium chew and £12.99 for a large chew.
Will Baggaley, international sales and marketing director, said: "We are delighted to be able to bring back the much-loved No-Hide® The Feast to the UK for the third year running. We hope that all our friends enjoy their 'Festive Feast' this Christmas season."
Earth Animal was founded by Dr Bob Goldstein and wife Susan Goldstein in 1979.