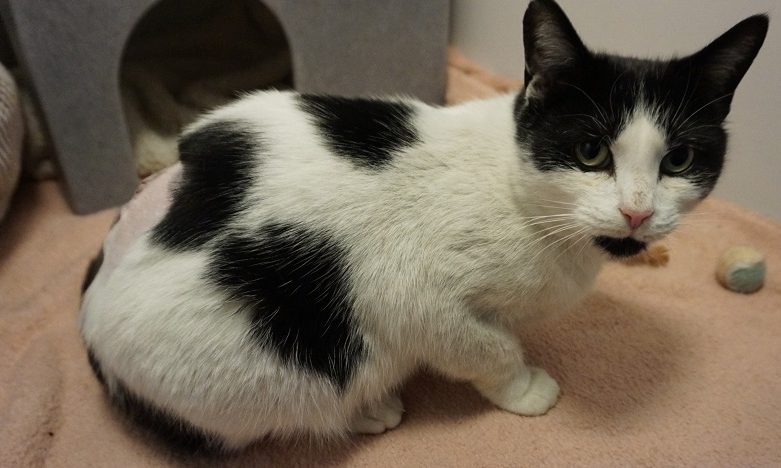 A stray cat, who was discovered with an air gun pellet lodged near her spine, is now on the mend and looking for a new home.
The one-year-old feline had been living as part of a feral colony near Hendon in North West London. The black and white cat, named Sorcha, had initially been brought into London-based animal welfare charity, Mayhew, through their Trap, Neuter, Return (TNR) initiative.
Mayhew's cat welfare coordinator, Georgina Disney, said: "Our TNR programme for feral cats in London helps to control and contain the cat population. We will trap the cats on location to bring them back to Mayhew for neutering and health checks.
"We will then re-release the neutered adult cats back to their colony, providing the area is suitable and safe for them.
"When we arrived at the colony in North West London, Sorcha appeared to be very scared of humans, and we were originally under the impression that she was a feral cat. We trapped her and brought her straight back to Mayhew to be assessed and neutered by our vet team.
"However, as soon as we started her assessments, it became very apparent that Sorcha was a domesticated cat. She was ever so friendly, enjoying lots of fuss and strokes from the team. During her assessments I found a suspicious lump near her spine. I thought it might have been an air gun pellet, so I quickly informed our vet team, who investigated further."
Mayhew vet, Emily Richardson, said: "When Sorcha first arrived she was very dirty and had a lump on her back near her spine.
"We removed the mass under general anaesthetic and discovered it was in fact an air gun pellet. She did not seem to be in pain and there was no skin damage, so the metal pellet must have been there for a while. Thankfully it hadn't caused any serious damage.
"Apart from having to remove the pellet, Sorcha was in a good overall condition and she had no other health concerns. She was treated with anti-parasite treatment and later neutered and vaccinated."
Mayhew's head of animal welfare, Zoe Edwards, added: "The volume of instances where cats have been killed or injured by air guns is very concerning. We believe that a much stricter regulation on the ownership of air guns needs to be put in place to help protect cats and other animals from these attacks.
"We hope that any future regulation of air guns will better protect animals and communities."
As soon as she was ready, Sorcha was put up for adoption and is now looking for the new home.
If you are interested in adopting Sorcha or any other cats in Mayhew's care visit www.themayhew.org or call 020 8962 8000.