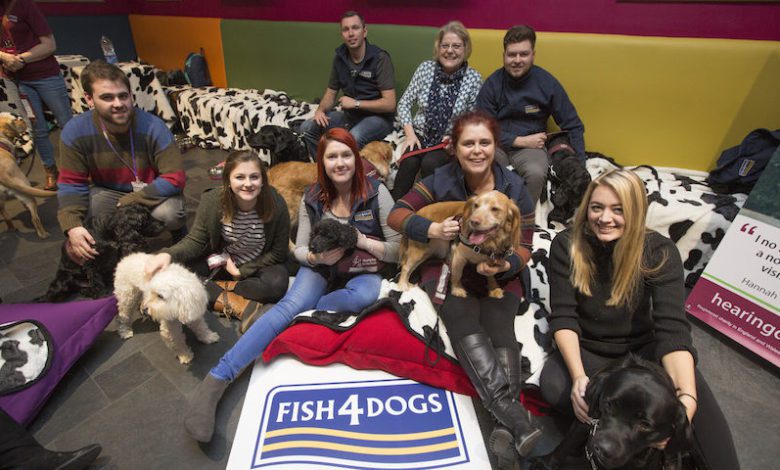 A doggy creche took centre stage at a special theatre performance of 'The Hundred And One Dalmatians', in Birmingham, when volunteers from Fish4Dogs gave helping hand to some four-legged VIP guests.
The stars of the show were not of the spotty kind – but a mix of breeds with very special skills: hearing dogs for deaf people, who had accompanied their owners to a BSL interpreted and captioned performance of the show at Birmingham Repertory Theatre.
Fish4Dogs are sponsoring this production at The REP and were keen to provide hands-on support for the facility which allowed owners to leave their dogs in the creche during the two-hour, 20-minute performance.
Jo Little, marketing manager of Fish4Dogs, said: "These dogs make such a difference to their lives of their owners. They are dedicated companions and helpers who are highly trained to assist people through an isolating disability by being their ears in the home and in public places.
"We are delighted not only to have supported The REP during its successful run of 'The Hundred And One Dalmatians' but to have provided some practical help during this performance and spend time with these wonderful dogs and a charity that provides such an amazing service."
Sarah Jessiman who attended the performance with her husband Eddie and cross breed mix poodle, Kai, said: 'We had a lovely evening at The Birmingham Rep watching 'The Hundred And One' Dalmatians and loved the puppetry in it. Fish4Dogs provided a great Hearing Dog play area with soft beds, toys and loads of people to look after the dogs. It was great to watch the performance knowing Kai was being adored!"
Rachel Cranny, head of fundraising at The REP said; "As a registered charity, The REP is committed to making its performances and activities accessible to all and we are delighted to have been fundraising in partnership with Hearing Dogs for Deaf People alongside our production of 'The Hundred And One Dalmatians'. The support from Fish4Dogs has been really fantastic and the crèche was a truly unique and very special activity."