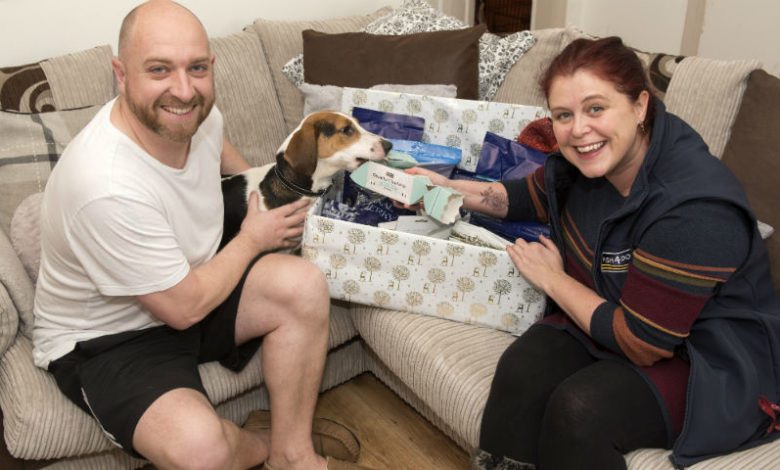 A young beagle and his owner, who were subjected to a terrifying attack in a Birmingham park, were given an early Christmas present after Fish4Dogs heard about their ordeal.
Two thugs attempted to steal one-year-old Chester from his owner, Adam Colvin, while they were walking in Sutton Park.
Mr Colvin was pushed to the ground by the attackers as they tried to snatch the dog but he managed to fight them off and run to safety with Chester in his arms.
When Fish4Dogs learned of the incident and Mr Colvin's efforts to alert other dog owners by contacting the police and local newspapers, the company decided to send him box of goodies as a show of support.
Fish4Dogs marketing, Jo Little, said: "We were truly shocked when we heard about this. I am originally from Streetly and would use the park on my way to school and to walk my dogs. It is very scary that something like this should happen in broad daylight and at a weekend when so many people were around.
"It must have been extremely traumatic and we applaud Adam's courage in rescuing Chester and helping raise attention to what happened, so that other dog owners can be extra vigilant." Jo arranged to meet Mr Colvin at his home, in Erdington, to present him with a box of food and treats for Chester.
Mr Colvin said: "We are really touched that Fish4Dogs would make so much effort to do something so nice for us. I have always loved Beagles so worked and saved to buy one, so I wasn't going to let Chester go easily. It was only afterwards that the shock set in. My fiancé and 13-year- old daughter were very upset when they found out what had happened.
"However, we can look forward to a family Christmas together. Chester is delighted with his goody box. He got very excited as soon as he sniffed out the contents and couldn't wait to try them out."