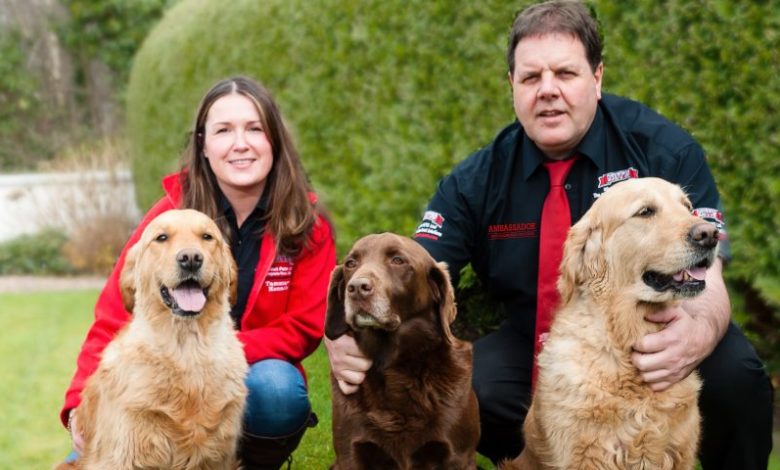 An Omagh-based business' new dog food brand has received the paws up from a GB Champion and Crufts winner. Ambassador dog food is the brainchild of Basil Thompson who has been running the successful Nutts About Pets business since 2004.
In addition to an Omagh depot, the company has another depot based in Banagher, Co Offaly.  The launch of Ambassador represents a £100,000 investment for the company which led to the creation of three jobs, bringing overall employment to 20 staff. The company has plans to create another 10 jobs later in the year.  
The company has spent two years perfecting Ambassador, which is hypoallergenic, wheat gluten free, high in meat content and rich in salmon oil. It has been described by champion dog breeders as one of the best and perfect for feeding award winning dogs.
To ensure Ambassador becomes a leading dog food brand the company has invested in an Ambassador team. With over 100 years of experience between them, the Ambassador team has proved invaluable. They were able to reveal what works best for their dogs and provide recommendations, a few of which made the final product selection.
Working, sporting and active breeds
Basil Thompson owner of Nutts About Pets said; "Ambassador is the complete dog food for working, sporting and active breeds and will lead to healthy happy dogs. People who love their dogs whether; they are a competitive dog or a family pet, will want to give them the very best and we believe we have found that with Ambassador.
Basil added:"To ensure we are delivering the best product on the market we enlisted the help of the crème of the crop of the dog breeding world both North and South. We created an Ambassador team who helped with the research and development. We trialled it with Crufts Champions, Irish and British Field Trial Champions and they all agreed it was a premium brand which helped address many health problems for dogs and helped their champion dogs perform at their very best."
GB Champion and Crufts winner, Shauna Mc Groarty from Dungiven, said; "Ambassador is definitely one of the best products out there. I have been using it on my show dogs and have been delighted with the results.
"Their coats look well and their performance at competition speaks for itself. I've tried many products over the years but I think Ambassador has done its research and come to the market with an excellent product, which I am delighted to use on my dogs."
For further details on the complete range, which comes in a variety of four different flavours; Duck & Rice; Lamb & Rice; Salmon & Rice and Puppy & Junior (available in two sizes – 12 kg and 2.25kg;RRP for 12kg bags from £30 – £34 RRP for 2.25kg bags from £8.99 – £9.99). For further details visit www.nuttsaboutpets.com or www.nuttsaboutpets.ie.