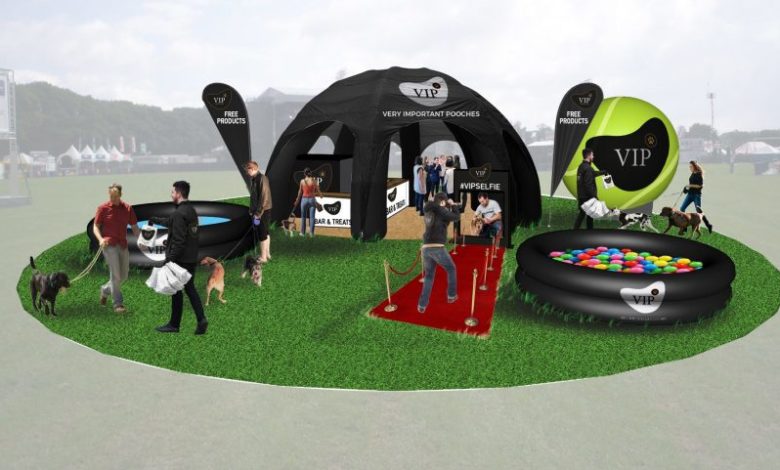 The UK's dogs and their owners are set to receive the red carpet treatment this summer, with the launch of VIP (Very Important Pooches) – a new promotional marketing agency bringing its unique brand of poochy fun and glamour to more than 30 events nationwide.
Premiering on June 18th at PugFest – the UK's only official pug festival – the VIP Zone is a dedicated event space offering an array of attractions for pooches.
A VIP bar offering treats, dog beer and pooch-friendly pawsecco is the perfect place for four-legged guests in need of refreshment to unwind after a hard day's playing with a giant four-metre tennis ball – a pooch favourite – and making new friends in the ball pond and paddling pool.
All visitors to the VIP Zone receive a free doggie bag of exclusive samples, goodies and promotional vouchers from the industry's biggest brands. What's more, a glamorous red carpet area and pooch photo booth for VIP selfies allow dog owners to capture and share their VIP experience.
"We believe every pooch is a VIP. That's why we're so excited to be launching The VIP experience at shows across the UK this summer. We look forward to welcoming and meeting thousands of very important pooches and their owners to enjoy all of the attractions and free treats in our VIP Zone," says VIP managing director and event organiser Lee Bennett.
"VIP guarantees a fun-packed day for you and your pooch – and no one goes home empty handed!" With the UK's 8.5 million dog owners spending more on their pets each year, the pooch product market is booming.
A January 2017 U.S study found that the average dog owner uploads a picture or posts about their pooch on social media six times per week, while one in ten have even created a social media account for their favourite pets. And, with the rise of dedicated pet social media sites such as Dogster and MyDogSpace, it seems the nation's pooches are more valued than ever before – both by their owners and by the pet industry's leading brands.