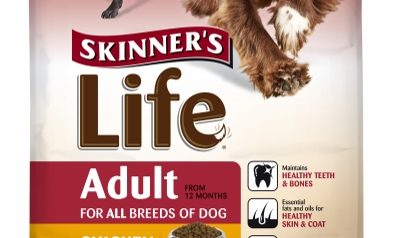 Suffolk based company Skinner's Petfoods will be moving into the pet sector from early 2017. The new 'Life' range for companion animals will be available alongside Skinner's well established food for working dogs.
A premium range for all life stages, Life builds on Skinner's extensive experience in developing the highest quality products for working dogs.
Will Delamore, Skinner's marketing director, said: "Skinner's Field & Trial range has been the number one working dog food for around 25 years and we're well known throughout that sector because of our absolute passion for making sure we provide the dogs with the best possible nutrition.
"The main aim of our food has always been to produce happy, healthy dogs – and as Field & Trial is already doing that with working dogs we decided it was time to turn our attention to pets. With our proven track record we understand the importance of making sure all dogs have access to the best possible food and that is what our new Life range offers."
Life has been carefully formulated with the help of vets and other experts in canine nutrition, to create healthy recipes featuring easily digestible chicken. It's available in Puppy, Junior, Adult and Senior, with Sensitive available for those dogs needing a fully hypo allergenic option.
The range is balanced with super premium ingredients. It including optimum levels of all nutrients and essential vitamins and minerals to form a highly palatable diet for all stages of a dog's life.
Skinner's many years of experience in producing high quality dog foods have given the company a unique understanding of dogs and the role good nutrition plays in maintaining optimum health.
Skinner's prides itself on the fact that all its diets have been carefully formulated by expert nutritionists to provide the correct balance of protein, carbohydrate, vitamins and minerals required for all dogs throughout every stage of their life.
The range will be available for wholesalers to stock from the end of January and launches in 12.5kg (RRP from £24.99) and 2.5kg (RRP from £6.99) bag sizes. The 2.5kg bags are re-sealable, for added convenience and freshness.
For further information on this range of new products from Skinner's contact your account manager or Skinner's direct on 01379 384247 Email: will@skinnerspetfoods.co.uk