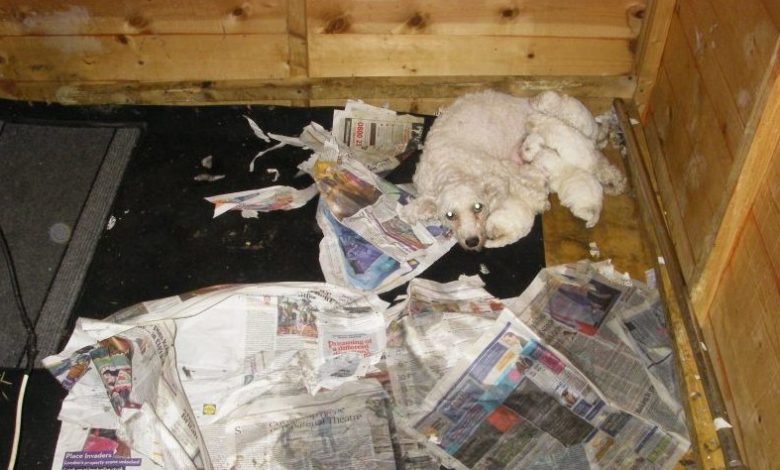 An Essex puppy dealer has been found guilty and is due to be sentenced alongside other conspirators.
The dealers have pleaded pleaded guilty to fraud in connection with the breeding and selling of sick and dying puppies.
Teresa Wade of Ship Lane, Aveley, in Essex, pleaded guilty to one offence of conspiracy to commit fraud at Basildon Crown Court.
Victoria Montgomery of Melford Avenue, Barking, in London, changed her plea to guilty part-way through the four-week trial.
Her daughter, Roxanne Montgomery of Grafton Road, Dagenham, in London, and her partner Tony Hammond, of Brunswick Court, Upminster, also in London, had already pleaded guilty to the same offence – of making false representations as to the condition of the puppies being sold, intending to make a gain – in July this year.
The RSPCA launched an investigation into these puppy dealers after receiving dozens of calls from members of the public complaining about buying sick and dying puppies in Essex.
Undercover investigations for the animal welfare charity found that two houses were being used as front addresses' to sell the dogs from, while they were transported there from a travellers' site in Aveley.
RSPCA inspector Carroll Lamport, who led the investigation, said: "We received lots of complaints from members of the public who had bought puppies which were really poorly.
"Following some investigations, we found out that this network of puppy breeders and dealers were using front addresses to sell the dogs from, making out that they'd come from loving, family homes.
"The reality was far from that. These dogs were being bred and kept at a travellers' site in Aveley, until it came time to advertise them online and sell them to unsuspecting members of the public when they were moved to these staged home environments.
"This is a tactic that more and more of these people are using to trick the public and to avoid raising any suspicions, and it's something we are seeing increasingly in these cases.
"Some of the dogs, which weren't being bred at the site, were being bought in from elsewhere. Many were too young and some coming from unknown circumstances, including a number believed to be from Welsh puppy farms."
When the RSPCA and police executed a warrant at the site, officers found 76 dogs and puppies.
All of the dogs – a mix of poodles, cocker spaniels, cavachons, cockerpoos and golden doodles – were seized by police and placed into the RSPCA's care along with one horse, one bird and five cats. A number of the bitches were pregnant and 27 additional puppies were born in RSPCA care.
Of the 103 dogs in total, four died and courts ordered for all the survivors to be rehomed by the charity ahead of the court case.
Inspector Lamport added: "All of the dogs have been successfully rehomed and are now living in good homes with loving families.
"But many needed intensive care and some have had ongoing problems following issues including parvovirus, campylobacter, and infections in eyes, ears and skin."
Sentencing will take place on 8 December. A hearing is due to take place on a later date relating to animal welfare offences