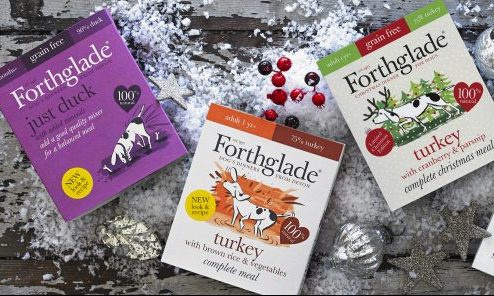 Forthglade has announced its launch of a brand new Grain free Christmas dinner for dogs.
Following a recent rebrand to their complementary and complete range for cats and dogs, the Devon based company created a new hypo-allergenic Turkey Christmas Dinner will contain 75 percent turkey, vitamin rich cranberries, parsnips, free from junk or fillers.
The complete wet meal will also provide omega-3, minerals, linseed oil, seaweed, prebiotics, chamomile, parsley, rosemary and nettle, plus glucosamine and chondroitin to help support healthy joints.
Forthglade's complete Turkey Christmas Dinner meals, suitable for dogs aged 1 year+, will retail at £1.29 for 395g, or £13.99 for a multicase of 12x 395g trays.
"We're pleased to have developed a nutritious festive feast for dogs.  Many pet owners enjoy treating their pets over the Christmas period, but sadly this often means feeding them rich leftovers from their own plates, which can be harmful to dogs. Our Christmas Dinner for dogs will provide a healthy tasty alternative" said Gerard Lovell, joint MD, Forthglade.
For further details visit www.forthglade.com or email the team at trade@forthglade.com