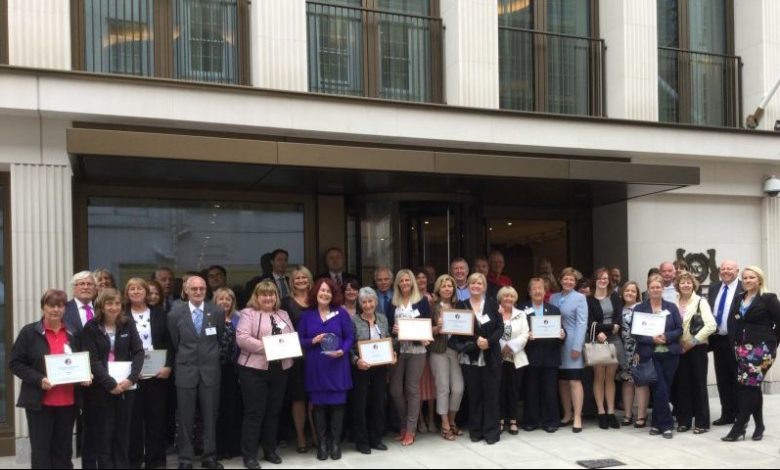 The Good Citizen Dog Training Scheme Awards, hosted by the Kennel Club, celebrated some of the people and organisations working with dogs.
The annual prize-giving ceremony recognises the efforts of individuals, canine organisations and local authorities nationwide which have invested their time and energy into helping to train dogs and educate their owners on the importance of responsible dog ownership.
The Good Citizen Dog Training Scheme (GCDS) was set up in 1992 to promote socially acceptable dogs by way of creating responsible dog owners.
Now the largest dog training scheme in the UK, it has since inception, issued over 562,575 certificates of achievement to owners and their dogs who have successfully passed the scheme's tests.
Solihull Dog Training Club was named the overall winner of the awards.
Supporters of the scheme, Royal Canin, presented an award for outstanding achievement, which was based on public votes. This was presented to Bill Baird, from Nuneaton Dog Training Club whose dedication to promoting the Good Citizen Dog Training scheme and helping owners to train their dogs impressed voters.
This year's other winners were; KC Listed Status Club, Perth Dog Training Club; KC Registered Training Club, Solihull Dog Training Club; Registered Breed Club, The Soft-Coated Wheaten Terrier Club of Great Britain; and Local Council Category – Most Effective Campaign, Aberdeenshire Council.
Special awards in recognition of individuals' dedication to dog training and education  were also presented to Marcia Mannings-Smith, for her work with the GCDS at Crufts and her ongoing role at Solihull Dog Training Club; Dave Deakin, for his work in coordinating GCDS testing at General Championship shows; Neville Uden, for his ongoing involvement in a large number of areas of the scheme, including the GCDS Supermatch; Carol Thornley, for her work with the Kennel Club's Safe and Sound Scheme at Crufts and her ongoing support and promotion of the GCDS; and Bob and Janet Clarke, for their promotion of the GCDS by taking their Labradors Katie and Cookie into schools, hospitals and hospices.
After announcing the winners, Kennel Club GCDS Working Party chairman, Maurice Cooke said: "The Good Citizen Dog Scheme Awards provide a wonderful opportunity for us to celebrate the hard work undertaken by training groups, local authorities and individuals.
"Today's winners have consistently gone above and beyond to promote responsible dog ownership and deserve to be honoured accordingly.  The enthusiasm and dedication from those who work tirelessly on behalf of dogs and their owners, helps organisations like the Kennel Club to educate people about responsible dog ownership and canine welfare.
"Massive congratulations to those who won today and a huge thank you to everyone who helps make a positive difference to the lives of dogs and their owners."