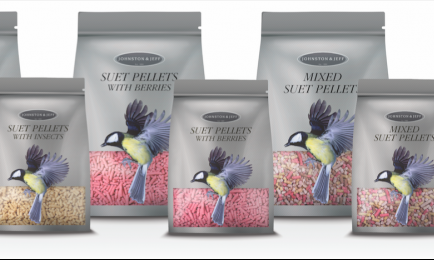 A packaging supplier has delivered a brand new design for Johnston & Jeff, as it offers pouched products for the first time.
Tyler Packaging was tasked by Johnston & Jeff to produce pouch based packaging that would convey the quality of its human grade, high energy bird food.
Adam Kay, sales and technical director at Tyler Packaging, said: "We've been supplying Johnston & Jeff with Form Fill and Seal (FFS) bags for a number of years, but with the firm having recently acquired a pouch filling machine, they turned to us to deliver pouch packaging that would reflect the quality of specific bird food products."
Chris Grange, commercial manager at Johnston & Jeff said: "Although the product contained within the packaging isn't new in itself, we wanted to emphasise the quality of it.
"We wanted to set it apart from the rest of our product range and to make it stand out. The content within goes above and beyond, so we wanted the packaging to do the same."
The products are available in different weights, with mealworms, being very light, offered in weights of 100g and 500g. The heavier suet pellets are sold in 1kg and 3kg packs.
For more information on Tyler Packaging visit www.tylerpackaging.co.uk
To find out more about Johnston & Jeff  visit www.johnstonandjeff.co.uk