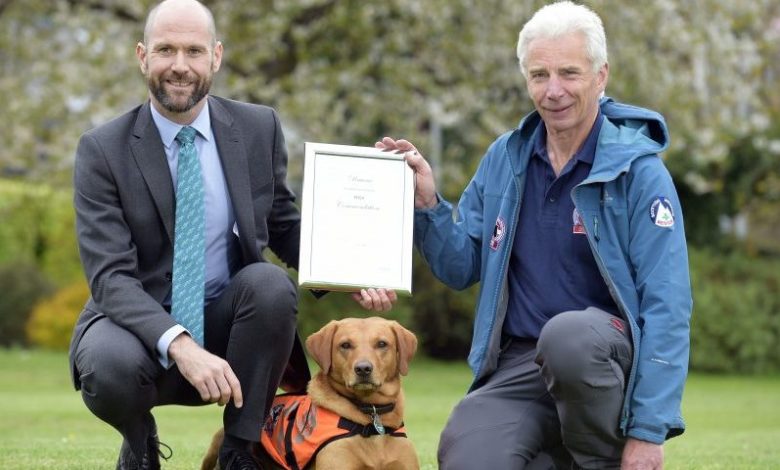 A three year old Labrador from Selkirk is being given a commendation by vet charity PDSA after successfully finding a critically injured missing woman in blizzard conditions.
Auburn-haired Search and Rescue dog Rauour – which means 'red' in Icelandic – was presented with his PDSA Commendation by the charity's vet surgeon, John Faulkner, at the Tweed Valley Mountain Rescue Team's Melrose base this week.
Rauour, who was trained by Search and Rescue Dog Association Southern Scotland, works as part of Tweed Valley Mountain Rescue Team.
He received his award for finding a high risk casualty in storm-force conditions in February 2015, following a fruitless three-hour search by a 20-strong team on foot.
The PDSA Commendation is part of the charity's Animal Awards Programme, which celebrates the unparalleled devotion and enrichment that animals bring to our lives. Rauour is the 88th recipient of the award.
John Faulkner who presented Rauour with his award said: "PDSA has a long tradition of honouring animals and Rauour's story really epitomises the value that animals bring to our lives. There is no doubt that without Rauour's actions the situation would have been very different.
"The work of search and rescue dogs across the country is absolutely vital – their skills are priceless and Rauour's story serves as a reminder of just how lucky we are to have these dogs here to help us."