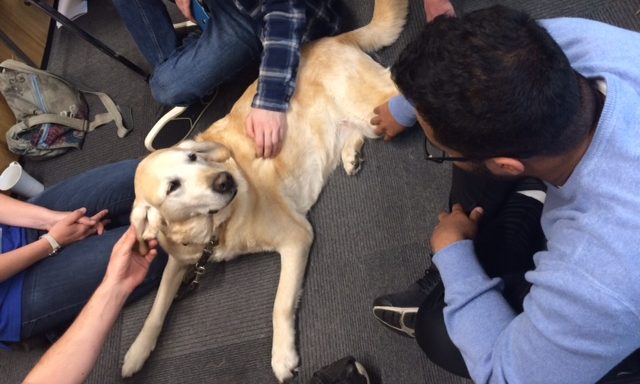 350 students at Exeter University have found an easy way to beat exam stress. They took advantage of a new MARS initiative and raised £1,200 for Guide Dogs by cuddling the hard working pooches between exams.
Pauline Devlin, ROYAL CANIN® director of corporate communications and scientific affairs said: "It's been such a great day – the students have enjoyed meeting young Guide Dogs, and as a company ROYAL CANIN® has been proudly feeding generations of Guide Dogs.  
"We hope that as well as enabling students to meet the dogs who make lives better for people that we will also encourage some of them to join us, either at MARS worldwide or at Guide Dogs themselves!"
Alec James, vice president, welfare and diversity for the Exeter Students' Guild, commented: "It has been an absolute pleasure to welcome the Guide Dogs and their owners and also the team from MARS who have supported the event today at the Guild. The dogs have been incredible, so patient and friendly and have truly brought a smile to everyone who walked through the door.
"It has also been a great way to raise awareness of the amazing work the Guide Dogs do day to day and raise money for such a worthy cause."
ROYAL CANIN® has worked closely with Guide Dogs for many years, feeding dogs in training and during and after their working lives.