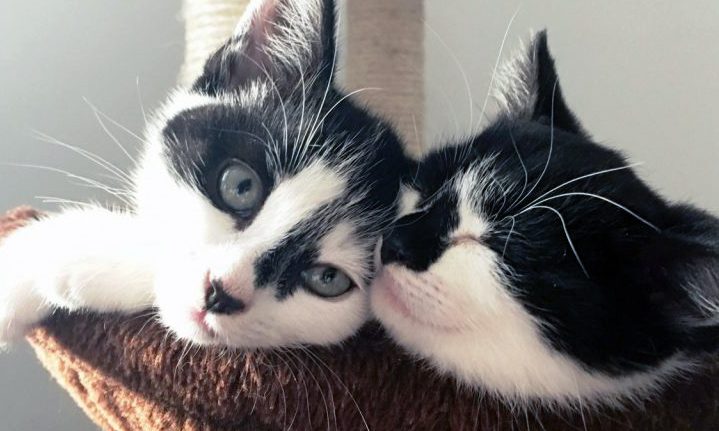 Five kittens were rescued after being born inside an abandoned washing machine.
The five-week- old kittens, aptly named Daz, Ariel, Persil, Surf and Fairy, were found with their mum, a feral cat, living inside the drum of a washing machine left outside in a garden belonging to a florist in Burnt Oak, Edgware.
At first, The Mayhew's Animal Welfare Officers were alerted to just four of the kittens, Daz, Ariel, Persil and Surf, and their mum when a member of staff working at the florist spotted the family emerging from the machine.
Animal Welfare Officer at The Mayhew, Tania Mazzoni, said: "A member of staff at the florist called us after they spotted four kittens and their mum climbing out of the washing machine. When kittens get to around five-weeks- old they start to move about and this was when they were spotted by the lady. She scooped them up and put them in a box, ready for us to collect when we arrived at the florist."
"When we arrived, we collected the kittens and did a thorough check of the washing machine and garden to make sure we'd found all of the family. We assumed we had them all when we couldn't find any others."
"We brought all four kittens back to our Home where they were settled into a comfy and warm kitten cabin and were given a thorough health check by our Vet team. Thankfully, they were all in very good condition and were healthy weights."
"As the kittens' mum was a feral cat, we left a trap down for her. We were then able to bring her into our Home where she was neutered and health checked by our Vet team, and then we returned her back where she was found, as a part of our Trap, Neuter and Return programme, which we launched in 1996 to help control and contain the feral cat population in London."
"It's really important that we neuter and health check the feral cats, as this helps prevent breeding and the spread of diseases such as FIV and FeLV. We re-release the neutered adult cats back into the area where we find them, providing it is safe and suitable for them.
"Like with Daz, Ariel, Persil, Surf and Fairy, if we find kittens under eight weeks old then we try to bring them back to The Mayhew where they can be socialised and find loving homes.
"If a kitten is any older than eight weeks, then it can be difficult and unfair to socialise a kitten born to a feral mum, and they will probably be anxious around humans all their life."
Just a week later, The Mayhew's Animal Welfare Officers received another call from the staff at the florist, saying that they had spotted another kitten near the washing machine.
The Officers immediately went to collect the additional kitten, Fairy, and take her back to The Mayhew where she could also be settled into a comfy kitten cabin and given vet checks.
Tania, said: "We were shocked when we received the call from the florists saying they had found another kitten, but were so glad that she was okay."
Already, adorable duo Daz and Ariel have washed up in a loving forever home together.
If you are interested in adopting any of the cats at The Mayhew, visit www.themayhew.org or call 020 8962 8009.