Products
Arcadia launches the DragonLamp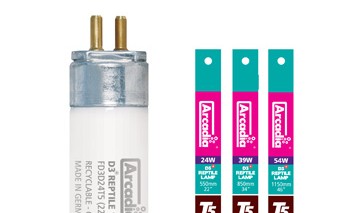 February 2016 marks the launch of Arcadia Reptile's new DragonLamp.
The DragonLamp is only available in HO T5 and boasts UVB at 14 percent of total light.  
It provides a bright, crisp light of  8k Kelvin, with a colour rendering index score of around around 98.
The lamp is made in Germany and comes with Arcadia's '12 month' upper index potency guarantee. Packaged in red and gold, it carries in clear pictorial form the suggested fitted height for an upper index basking quantity of UVB of 6 at 15", with warnings for those that seek to fit incorrectly.
The DragonLamp is suited to many arid species of lizard, crocodilian and chelonia and comes into its own in the larger arboreal enclosures.
The lamp will be available from retailers' usual wholesale partners. Speak to your Arcadia Rep or wholesaler for more details.