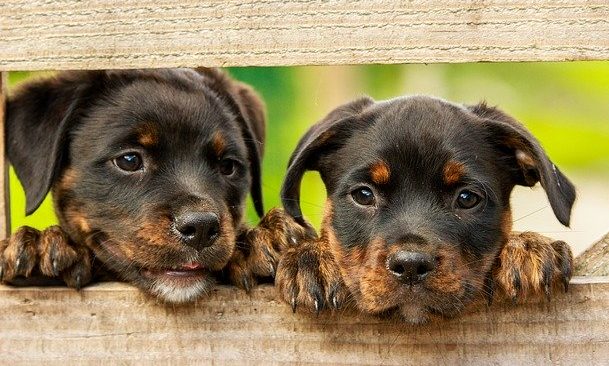 The arrival of a new pet is very exciting, but it can also be a daunting experience for new owners. Feeling this way is only natural: to help you feel more prepared, there are a few steps that can be taken.

The first port of call is an introductory trip to the vet. This will help you get a handle on important measures, such as microchipping, vaccinations and worming, which should start early for puppies, kittens and rabbits, as well as preventative flea treatments for puppies and kittens. This visit is also a good opportunity to discuss procedures like neutering and for addressing any additional questions or concerns. Regardless of whether your new pet has come from a breeder or a rescue shelter, booking their first vet visit, and getting your animal registered, is key.

More broadly, though, there are a number of things that you can do to make your pet's first few weeks with you as complication-free as possible.
Puppies
Feeding
For the first week that they are with you, it is best to keep puppies on the same diet that they were on prior to arriving. Arriving at a new home can be stressful, so keeping their diet consistent can help to avoid stomach upsets. Afterwards, you can introduce a scientifically formulated complete puppy food, which will contain all of the nutrients that young dogs need to keep them healthy. Your vet can also recommend a selection of good quality brands to choose from.
Puppies have small stomachs, so for their first four months they will need four to six small meals a day, reducing to three meals between four and six months of age and then to two meals after that. Although it may be tempting to shower your puppy with treats, remember that they should be used sparingly to reinforce good behaviours.
By law, your puppy must be microchipped by a vet, or trained technician, before they are eight weeks old. The chip provides your puppy with a unique personal identification number, which will help return them to you, should they ever get lost. You will need to share your details with an authorised national database. It is important to keep these details updated, especially when moving house. As well as a microchip, dogs should wear a collar with their owner's name and address on it (usually in the form of a tag) when they are outside the house. 
Exercise and socialisation
One week after your puppy has had their second vaccination, you can get them out and about to meet other dogs. Getting a puppy into the habit of exercising is always positive, but make sure to start slowly and avoid over-exercising them. A good rule of thumb is to aim for five minutes of exercise for each month of your puppy's age, twice a day. For example, ten minutes twice a day at two months of age.
Socialisation from a young age is also key to making sure that your puppy grows up to be a happy, friendly dog. Going to puppy classes is a useful place to start. The best way to socialise a puppy is through interactions with friendly adult dogs. Dogs understand body language, so make sure to keep calm when your puppy meets someone or something new, especially if it's another pooch.
Kittens 
Food
While the prospect of cooking for your new kitten can seem exciting, cats have unique dietary requirements, so it's advisable to stick to specially formulated complete cat food. Despite the popular misconception, most cats lack the enzyme needed to digest cow's milk, lactase, so it is best to avoid feeding them milk, as this may cause diarrhoea. Specially made cat milk is available, though, and can feature as an addition to your cat's meals. 
Equipment
Litter trays are a vital first purchase, as many cats can be picky about where they go to the toilet. In general, you should have more litter trays than you have cats. They should be big enough for a fully grown cat to turn around in, and tucked away in a private place. While feeding, cats prefer shallow dishes so that their whiskers do not touch the sides of the bowl. Glass or ceramic is best, as plastic can absorb smells, whilst metal bowls can make loud and distracting noises. 
Space
It may be tempting to shower your new kitten with attention, but it is also important to make sure that they have their own space, and time to explore their surroundings. Being wary of excessive petting and stroking can be the best way to make them feel at home when they first arrive.
Rabbits
Companions
Rabbits are social animals and a companion is essential, so they should be adopted in pairs. Not only do they rely on their companion for social interactions, but in the colder months it is fundamental to staying warm. Rabbits do not have to come from the same litter to be kept together, but be sure to introduce new rabbits slowly and supervise them whilst they are getting to know each other.
Food and drink 
Rabbits are natural grazers and their diet should be varied. Ideally, their daily intake should be made up of constant supply of hay or fresh grass to nibble (85-90%), a variety of fresh vegetables and leafy greens (10%), and a small quantity of high-fibre pellets (5%).
 As rabbits are designed to graze throughout the day, make sure that their cages are well stocked with fresh hay at all times. Use hay that is pale or green in colour, as brown hay is past its nutritional best. Scattering some pellets or slices of fruit and veg amongst the hay, such as carrots or apples, gives them the chance to forage for treats. Rabbits should also have constant access to clean water, so make sure to keep a full raised water bottle in their hutch at all times. This should be cleaned and changed each day.
Hutches and space 
Hutches should be kept in a dry space, away from the wind to prevent drafts. If you need to shield your hutch from the elements, then using a perspex sheet can be a good option for protecting the hutch in cold snaps, while still letting sunlight through. You should also make sure that the hutch is full of good quality bedding and is raised off the ground to protect it from predators, as well as from winter frost.
---
Dr. Jessica May, UK lead vet at the video vet service FirstVet