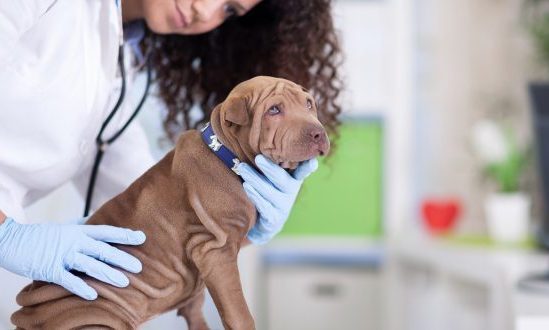 Puppy buying habits are leading to a welfare crisis and financial and emotional strain on consumers, claims the Kennel Club.
Half of puppies bought online without being seen by their new owners first are falling sick, as almost half of people (45 percent) suspect their pup could have come from a puppy farm.
People opting to buy puppies online or from newspaper adverts, not realising that many could have been bred on puppy farms, is leading to one in five having to spend between £500 and £1,000 in vets' bills in the first six months of their puppy's life.
This is resulting in financial and emotional problems as over a third (37 percent) say they have been affected financially and 35 per cent affected emotionally by the strain of owning a sickly pup.
Kennel Club research for Puppy Awareness Week, taking place from 12-18 September, shows that puppy buying habits could be contributing towards a welfare crisis, with over a third of puppies (37 percent) being sold online or from newspaper adverts being bought by people who decided to get a puppy on the spur of the moment – with almost two thirds (60 percent) choosing their dog solely because of the way it looks.
Many of these puppies will go on to develop diseases and conditions common in puppy farmed pups, with around one in five pups (17 percent) ending up with serious gastro-intestinal problems.
Many people are not prepared for the associated financial cost of a sickly puppy, with around a third of people (32 per ent) who buy online or from a newspaper advert without seeing the pup first, having to spend more on vets' fees than they had accounted for.
Almost one in five (18 percent) spending between £500 and £1,000 on vets' bills in the first six months of their puppy's life means that many people are having to spend more on their pet's health than they paid for the puppy originally.
As a result, over a third of people (37 percent) who ended up with a sick pup after buying online or from newspaper ads experienced financial problems due to cost and 35 percent suffered from emotional problems due to the strain of having a sickly puppy.
The Kennel Club is increasingly concerned about irresponsible breeders who put profit over health and welfare and is keen to highlight the importance of going to a responsible breeder.
Caroline Kisko, Kennel Club secretary, said: "It's absolutely shocking that people are still buying puppies online or from newspaper adverts without seeing the puppy first.
"Not only do puppies end up suffering as a result of being irresponsibly bred and sold, but consumers are being utterly duped into thinking they will end up with a healthy puppy, when the reality is that buying a pup from a disreputable source is likely to cost them dearly, both emotionally and financially.
"This is especially true when a puppy buyer does not even see the puppy before purchase, which is why the Kennel Club is highlighting the importance of seeing the puppy with its mother in its breeding environment before committing to buy.
"It's absurd that people are likely to take less care buying a puppy than they do when buying a kitchen appliance, and they may well be unknowingly supporting the cruel puppy farming trade as a result.
"It is crucial for anyone thinking about getting a dog to go to a responsible breeder, such as a Kennel Club Assured Breeder, or to a rescue organisation, and to know what to look for when they do so to stop puppy farmers from selling sickly pups and causing puppy buyers untold emotional and financial distress."
For more information visit www.thekennelclub.org.uk/PAW.