Pets at Home is among the top four pet retail companies which has experienced an eight percent drop in its brand visibility over the past year, a new report has revealed.
However, the retailer remains at the top of the market according to The Pets Supplier Insight Report, produced by digital marketing specialists Inside Online, which ranks 48 of the leading websites according to their online performance.
The annual study reveals the successes and shortcomings of each website, highlighting where there is room for improvement.
Zoo Plus also saw a considerable reduction on its previous year with a decline of 38 percent while Monster Pet Supplies fell out of the top 10, due to an 89 percent decrease compared to 2016.
Kennel Gate saw a drop of 55 percent.
Other results showed that Pet-Supermarket and Omlet recorded the most significant increases in brand visibility among the top 10 companies, with growths of 35 percent and 29 percent respectively.
Pet Planet fell from the eighth spot in the top 10 websites to number 11.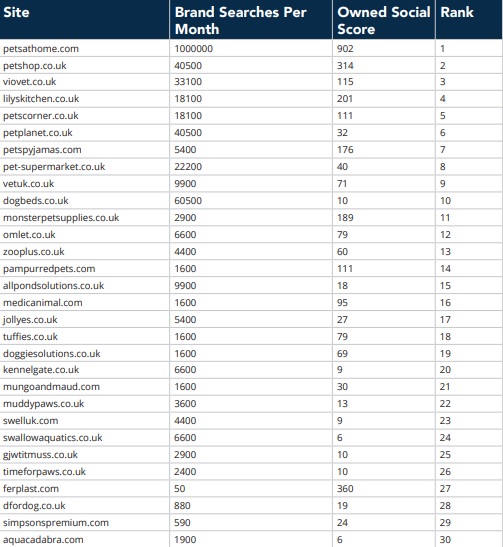 The study showed that Pets At Home dominated the social charts topping both the brand searches per month and owned social score lists with one million monthly searches recorded.
Dog Beds came second as Pet Shop, Pet Planet and Vio Vet rounded out the top five for searches per month.
Pets At Home leads owned social scores with Ferplast, Pet Shop, Tails and Lily's Kitchen making up the top five  performing firms.
The social score considers followers and engaged conversations on all major social platforms.
Dog Beds saw a high brand search with 60,500; however, this didn't translate to its owned social score [10], resulting in the company ranking tenth overall.
Similarly, however, Bitiba [8,100] and World of Water [6,600] had high brand searches, but each recorded an owned score of one, while Waitrose Pet recorded 4,400 against a score of zero.
Ferplast and Tails both scored high owned results [360 and 224] but had low brand search figures, leading the companies to be ranked in 27th and 37th positions, respectively.
Links have always been an important ranking factor and can make all the difference to how far up a brand appears on Google.
Pet Planet led the links with a massive average number per month of a high quality which has mainly been primarily achieved via their A-Z list of pet guides, providing rich in information and are split-up under clear titles to make them easy to follow with links to their product pages. Inside Online suggested that its campaign direction could be improved by including shoppable content images.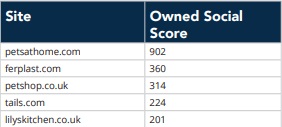 There were several sites which were shown to have 'high-quality, low-volume' links; these included Pets Direct, Waitrose Pet, Fetch, Bitiba and Butternut Box.
Conversely, there were also sites which had 'low-quality, high-volume' links, such as Vio Vet, D For Dog, Swell UK, Medicanimal and Swallow Aquatics.
Gemma Curtis, inbound content marketer, at Inside Online: "It's been hit and miss for the pet supplies market this year, with the top four retailers all losing visibility. There is a clear need for resources in this sector with many of the brands offering brilliant guides and articles – Pet Planet, Omlet and Pets Corner did this particularly well.
"Pets at Home and Lily's Kitchen stood out as social winners with well-branded posts that encourage users to engage, links to charity work, and newsworthy posts."
She added: "With great content confirmed as a key driver for Google's algorithm, brands should continue focusing on producing link-worthy content and exciting social feeds to gain those high rankings."