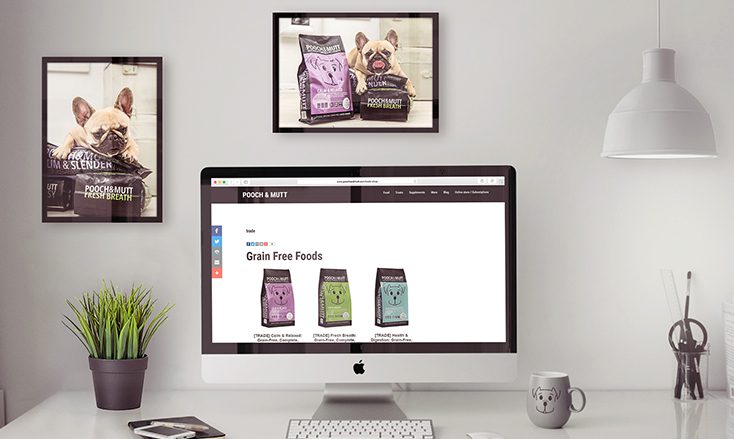 Pooch & Mutt has launched a new website service that allows independent trade customers to shop online. The service update allows direct order purchases at trade prices, with an express 48 hour delivery service.
New features of the site include the ability to 'tag' both new and existing stockists as trade. This will enable independent trade to order direct from Pooch & Mutt using the same secure checkout as retail customers. The move will streamline the current order process and provide up to date product information for trade customers.
The update was developed to deliver the increase in demand following a successful Christmas campaign and seasonal product launch in 2016. The company hopes the move will work towards an eighth consecutive year of growth in sales.
Pooch & Mutt's grain-free functional food range is made up of a 45 percent single protein source, with natural ingredients and supplements 'built in'. Function is at its core, for example its mobility Move Easy food is made with salmon, as salmon is rich in omega 3, which helps joints.
Powerful, active ingredients work to target current health concerns in the UK dog population such as weight gain, excitable behaviour, and bad breath.
The full product catalogue including the company's Calm & Relaxed grain-free food and treat ranges are now available to purchase directly online. The Pooch & Mutt sales team will be showcasing the new order process at upcoming trade show PATS Sandown on 21-22nd March.
Founder Guy Blaskey said: "We know that a big part of how people decide what to buy for their dogs is based on personal recommendations. Our team are very pleased to have a developed a convenient service to support the independent trade. We hope that our update will help get our healthier options available more dogs than ever before."
Further details can be found on www.poochandmutt.store/pages/trade
For more information on Pooch & Mutt's product range, call 02030111567 or visit www.poochandmutt.store.